The season is here: Nature Vegetarian Delights brings you our traditional baked and thousand layered mooncakes, crafted by hand, and baked with sincerity.
Available in our restaurant and islandwide delivery from 22nd August to 29th Sept 2023, or while stocks last! Stay tuned to our webpage or social media for more updates!
𝑬𝒈𝒈𝒍𝒆𝒔𝒔 𝒃𝒖𝒕 𝒃𝒆𝒕𝒕𝒆𝒓: NVD's Plant-Based Yolk
Our signature plant-based 'yolk' is back! 🌕 Specially formulated with 𝐚𝐥𝐥 𝐧𝐚𝐭𝐮𝐫𝐚𝐥 𝐢𝐧𝐠𝐫𝐞𝐝𝐢𝐞𝐧𝐭𝐬 and handmade from scratch, the unique blend of spices gives it a subtle salted egg yolk taste without being too overpowering, which perfectly balances out the accompanying sweet mooncake paste. Best of all, it is 𝐜𝐡𝐨𝐥𝐞𝐬𝐭𝐞𝐫𝐨𝐥-𝐟𝐫𝐞𝐞, 𝐥𝐨𝐰𝐞𝐫 𝐢𝐧 𝐬𝐨𝐝𝐢𝐮𝐦 & 𝐜𝐚𝐥𝐨𝐫𝐢𝐞𝐬 compared to the usual traditional salted egg yolk! It is simply… 𝒆𝒈𝒈𝒍𝒆𝒔𝒔 𝒃𝒖𝒕 𝒃𝒆𝒕𝒕𝒆𝒓.
Discover Our Vegan Yolk's Goodness:
100% Vegan
Made with 100% natural ingredients
Low in Sodium
No Cholesterol
No Added Preservatives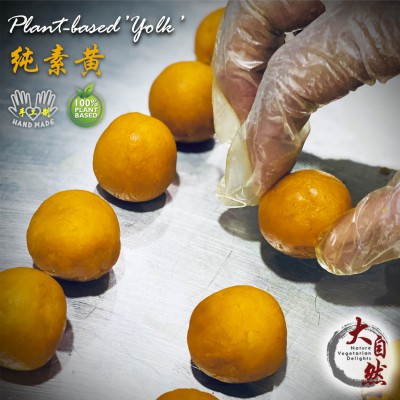 🥮大自然之月: 𝑻𝒓𝒂𝒅𝒊𝒕𝒊𝒐𝒏𝒂𝒍 𝑩𝒂𝒌𝒆𝒅 𝑴𝒐𝒐𝒏𝒄𝒂𝒌𝒆𝒔
Completely vegan, savour these reduced sugar traditional mooncakes which are handcrafted and baked. Offering two versions – with and without our plant-based yolk, try out our creations!
Available Flavours:
White Lotus
Matcha Lotus
Jade Lotus
Signature Premium Mixed Nuts
🥮大自然·伍仁之月 𝑺𝒊𝒈𝒏𝒂𝒕𝒖𝒓𝒆 𝑷𝒓𝒆𝒎𝒊𝒖𝒎 𝑵𝒖𝒕𝒔 𝑴𝒐𝒐𝒏𝒄𝒂𝒌𝒆

Meet our 𝐚𝐥𝐥-𝐭𝐢𝐦𝐞 𝐛𝐞𝐬𝐭 𝐬𝐞𝐥𝐥𝐞𝐫: a timeless classic mooncake in plant-based evolution. 🌱
Each mooncake is carefully handcrafted with a symphony of roasted premium nuts – walnuts, macadamias, pine nuts, almonds, sesame seeds, melon seeds – and subtly sweetened with candied winter melon and a tinge of citrus note. No wonder it is the lowest glycemic index mooncake available, power-packed with omega essential acids and suitable even for diabetics. And yes, it has no cured-ham or lard – every slice is just nature's goodness.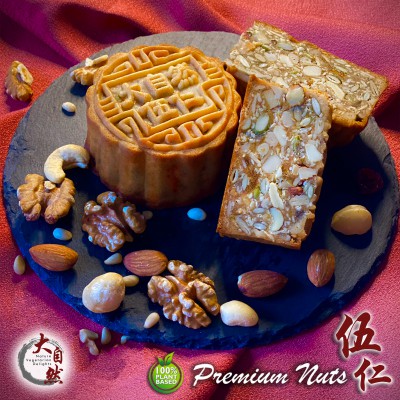 Harmonizing mildly sweet and savoury flavours with pastry that is intricately handmade into beautiful spiral layers… this is 𝕋𝕙𝕖 𝕃𝕒𝕪𝕖𝕣𝕖𝕕 𝕊𝕚𝕩 六味酥月.
6 limited edition "flavour-in-flavour" mooncakes that is made fresh to order. Only available from  22nd August to 29th Sept 2023(or while stocks last).
🟡 'Ondeh' Coconut Lotus•Gula Melaka Lotus 椰莲蓉 · 椰糖莲蓉
🟣 Yam Paste 'Orh Nee'•Plant-Based 'Yolk' 潮州芋泥 · 植物单黄
⚫ Pu'Er Tea Lotus•Roasted Almond 普尔茶莲蓉 · 杏仁粒
🟠 Salty Shiitake Mung Bean 花菇 · 咸绿豆沙
🔴 Lychee Lotus•Cranberry · Rose 荔枝莲蓉 · 蔓越莓 · 玫瑰
🟢 Matcha Lotus•Adzuki Bean 绿茶莲蓉 · 红豆心
Our Layered Pastry Mooncakes are baked, not deep fried. Best consumed within 3 days from purchase, or store for up to 1 week in fridge.
For best taste: bake in a pre-heated oven or air-fryer for 8 mins at 150 °C before enjoying them!