🌾𝕊𝕙𝕒𝕣𝕚𝕟𝕘 𝕠𝕦𝕣 𝕗𝕒𝕞𝕚𝕝𝕪'𝕤 𝕥𝕣𝕒𝕕𝕚𝕥𝕚𝕠𝕟🌾
In our family, the art of making Rice Dumplings (Bah Zhang) has been passed down through generations, and we take immense pride in upholding this cherished tradition. Every step of the process is meticulously carried out with dedication and love, ensuring an authentic culinary experience.
From meticulously washing each leaf to the careful preparation and frying of the rice and fillings, no shortcuts are taken in creating every dumpling. The art of skillfully wrapping each dumpling into a perfectly balanced pyramid that is neither too tight nor too loose takes years of practice, of which our founders oversee this process personally every year.
We invite you to partake in this seasonal delicacy that holds a special place in our hearts. Just as we find joy in sharing our family's tradition, we hope that you, too, will relish the flavors and appreciate the effort poured into each dumpling.
Handmade from scratch just like how our mother make for us.
· 100% Plant-Based / Vegan
· No rafia string used in production
· No artificial colouring
· No added preservatives
· No added MSG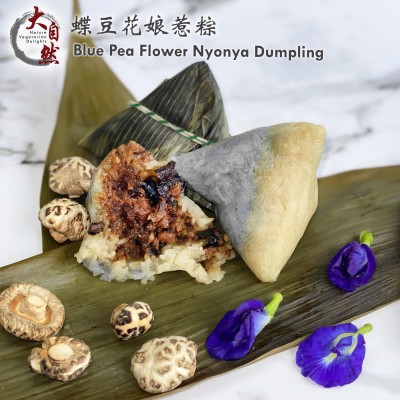 Sweet & Savoury: Blue Pea Nyonya Rice Dumpling 蝶豆花娘惹粽
Best seller: Our nyonya dumpling has a distinctive sweet and savoury taste from the diced winter melon, chopped soya 'meat' and chinese mushroom fillings. The distinctive natural blue hue rice is from Blue Pea Flower – 100% no artificial colouring!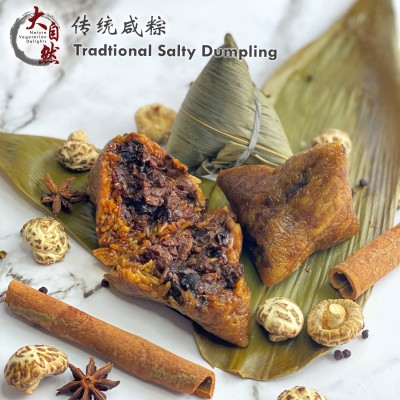 Salty & fragrant – Traditional Salty Dumpling 传统咸粽
An all time favourite – our Salty Dumpling is a Hokkien recipe, key aroma is the special blend of thirteen-spices powder stir-fried to perfection with minced soya meat and chinese mushroom.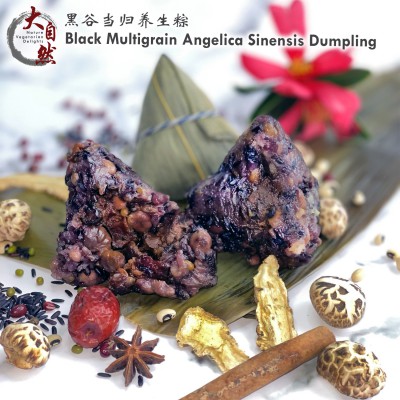 Healthy & Herbal – Black Multigrain Angelica Sinensis Dumpling 黑谷当归养生粽
The healthiest version of our dumplings: a perfect mix of black glutinous rice glutinous rice, black-eye bean, green bean and red bean stir fried with angelica sinensis and red dates.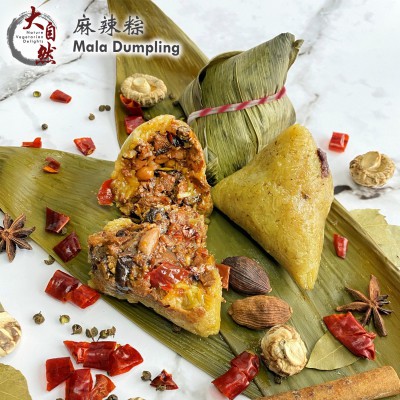 Spicy & 'numbing' – Mala Dumpling 麻辣粽
Our signature housemade Mala paste stir fried with soya meat, numbing sichuan peppercorn and stewed chilli peanuts. It is fiery good 小辣 rice dumpling.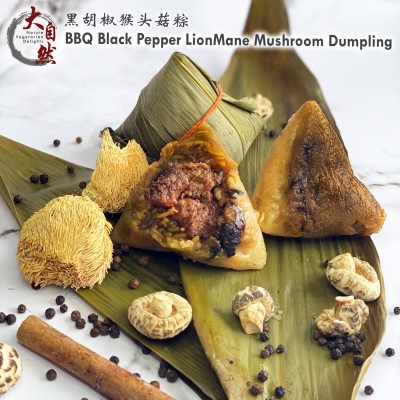 Peppery & smoky – BBQ Black Pepper LionMane Mushroom Dumpling 黑胡椒猴头菇粽
Lionmane and shiitake mushrooms slow cooked with black pepper BBQ sauce and wrapped with brown/white glutinous rice. This smoky goodness is unbelievably vegan!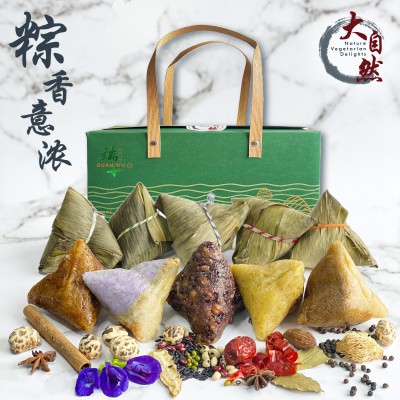 The Gift Set 五味粽盒
Perfect for gifting – 5 flavours in a box and a leaflet to show all 5-flavours! Pick your favourite.
Customer reviews
Hear it from our customers! Click on the link
HERE
to view the Instagram story tags!
Do tag us at @naturevegedelights if you love our rice dumplings!
Handmade rice dumplings are available from 16 May to 22 Jun 2023. Walk in to our restaurant to purchase, while stocks lasts!
Alternatively, click on the button below to pre-order NVD Rice Dumplings for self pick-up or delivery (islandwide). 𝐍𝐨𝐭𝐞: 𝐩𝐫𝐞-𝐨𝐫𝐝𝐞𝐫 𝐟𝐨𝐫𝐦 𝐰𝐢𝐥𝐥 𝐜𝐥𝐨𝐬𝐞 𝐨𝐧 11 June 2023 (11:59pm).
If you wish to purchase our food with dumplings, please visit naturevegedelights.oddle.me